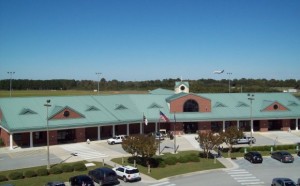 We are celebrating 82 years on November 21!  Please stop by for some birthday cake between 10:00 a.m. – 5:00 p.m.
During December we will have Christmas carolers performing from local schools.  Please feel free to call us at 252-638-8591 x223 for specific times.  The children are always a pleasure to watch and they will bring a smile to your face.
This holiday season Coastal Carolina Regional Airport is a proud partner of the US Marine Corps Reserve Toys for Tots program.  We will be collecting new, unwrapped toy donations – please feel free to drop them off at 200 Terminal Drive between November 27 and December 15.
From the entire staff at Coastal Carolina Regional Airport – we sincerely wish you and your family a very Merry Christmas and Happy New Year!  We appreciate your business!
Come Fly With Us!
Submitted by: Leigh Ann Cook, Financial Manager, Coastal Carolina Regional Airport