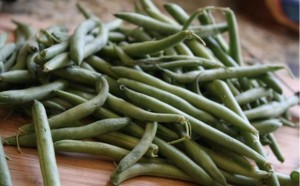 By Kate Horney
The holidays are here.  Know what that means?  It's green bean casserole time!
But did you know that even though the main ingredient in the classic dish is green beans, each serving can have about 250 – 300 calories and TONS of fat?  How can that be?  It's all those crazy canned fried onions that are crammed into and piled on top of the thing.
One little can of those crispy catastrophes has roughly 900 calories and 70 grams of fat!  WHOA!
The good news is, with just a few easy swaps, you can make your own version of this holiday fav, for a fraction of the fat and calories.
Check out this healthier version and share it with everyone you know…
Recipe:  Lean Green Bean Casserole
Ingredients:
– Two 16 oz. bags frozen French‐style green beans, thawed, drained & thoroughly dried
– Two 10.75 oz. cans Campbell's 98% Fat Free Cream of Celery Soup
– One 8 oz. can sliced water chestnuts, drained
– 1 oz. (about 25 pieces) onion or cheese-flavored protein crisps, crushed (I found mine at Food Lion)
Instructions:
Make sure green beans are thoroughly drained and completely dry ‐ use a towel if you need to.
Then, place half of the green beans in a casserole dish (a 2 ‐ 3 quart rectangular one works best).
Pour 1 can of soup evenly on top of the layer of green beans.
Place half of the sliced water chestnuts over the soup layer.
Cover with remaining green beans, and then top with the rest of the soup.
Evenly top with the remaining water chestnuts.
Place dish in the oven, and cook for 45 minutes at 325. Top with crushed protein crisps, and return dish to the 
oven for another 10 minutes or so, until chips turn golden brown.
MAKES 10 SERVINGS
ENJOY!
If you're not sure where to start for a healthy holiday?  We have tons of delicious, healthy and easy recipes at BeyondFit Life!
If you need ideas for healthy week night dinners, fat loss friendly snacks, quick and easy breakfasts, and more… you will love the recipe section of the portal!  And to make things even better: you can download all our member recipes IMMEDIATELY so you can pick out your menu for next week RIGHT AWAY!
By Contributing Author: Kate Horney, BeyondFitPhysiques