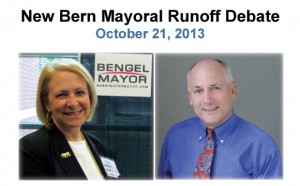 New Bern Now is looking forward to providing a unique opportunity for New Bern's Voters and Candidates for Mayor, Sabrina Bengel and Dana Outlaw.
Join us for our Mayoral Runoff debate on October 21, 2013 from 12pm – 2pm at the Isaac Taylor Garden, 228 Craven Street, New Bern.
Although New Bern Now's never stepped into the political arena, we wanted to host a debate as a means for the people's voice to be heard and answered.
As our motto says, "Promote, not demote", we believe we can have a fair and constructive debate where both candidates will receive equal opportunities to share their goals and objectives.
Here's your chance to ask the candidates a question and "shape the debate". We are asking you what you want to know before voting, as all questions asked during the debate will come from New Bern's voters. Please send your questions via email to or drop them off at the Isaac Taylor House in an envelope addressed to New Bern Now no later than October 19. Anonymous questions won't be considered. Please know that we won't disclose your name or contact information.
We look forward to seeing you on October 21! This event will be taped and available on New Bern Now's Youtube Channel.
RSVP by joining the event here: http://www.facebook.com/NewBernNowNC or sending an email.
Please let us know if you have any questions by calling NewBernNow.com at 252-638-6858.
Wendy Card