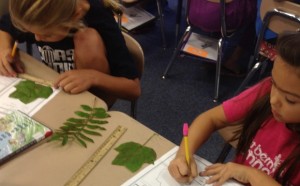 Second Grade Students in Mrs. Tonya Gent's Class at Creekside Elementary School spent a week studying the trees around their community.
With the funding assistance from a Weyerhaeuser Mini grant (Fall Into Learning About Trees) from Partners in Education, the second grade class was able to identify common trees by looking at their leaves. They matched the leaves with the help of freeze-dried specimens and iPad applications.
Students also measured the leaves and learned how to correctly plant a White Oak acorn.
For more information on how you can support the efforts of Partners In Education, contact Darlene Brown at 252-514-6321.
Submitted by: Darlene J. Brown, Executive Director, Craven County Partners In Education