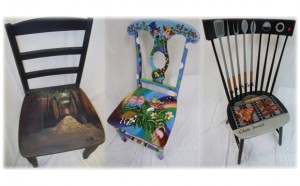 Presented by Habitat for Humanity of Craven County
On Saturday, November 2, from 6:00 to 9:00pm, Habitat for Humanity of Craven County is hosting the 4th Annual CHAIR-ity Auction and fundraiser at the North Carolina History Center. The event, hosted in Mattocks Hall, will feature a concert with Paul Saik, dinner catered by The Flame, a live auction and a silent auction. As in previous years, local artists will prep, create, paint and finish kitchen chairs and stools, generously donated by Bill and Carole Kemp.  The completed chairs and stools will be the featured silent auction items.  Artists include many New Bern area residents as well as New Bern High School Students. Be on the lookout for the chairs on display during October at many local businesses.
Nationally recognized local artist Marsha Mills will be in attendance again and a gift certificate for an 18 X 20 black and white commissioned portrait will be up for auction.  Our featured musician, Paul Saik, is currently the Director of Music Ministries at Centenary United Methodist Church here in New Bern. A versatile singer, Paul has performed with opera companies throughout the U.S. and around the world. He has appeared with various symphonies and has worked with the likes of Baz Luhrmann ("Moulin Rouge") in the New York Broadway arena.
All proceeds from this event will go towards the latest Habitat house for homeowner Amanda Darnell and her two daughters, Kamri and Kailyn, ages six and nine. Ms. Darnell and her children moved to New Bern from Arkansas three years ago. Earlier this year, the apartment they had been living in became overrun with mold, and Amanda, an asthmatic, was forced to move her family out and into her parents' house.  Amanda is very excited about her new home and says, "With God, all things are possible." Amanda is a Recovery Auditor/Contractor for Carolina East Medical Center.
Tickets are $30 in advance or $225 for tables of eight. For event information and reservations, please contact Mark Beard, Executive Director of Habitat for Humanity of Craven County at 252-633-9599 or habitatmarkbeard@gmail.com; or Suzanne Stewart, Resource Manager habitatsuzannestewart@gmail.com. Tickets go on sale October 1st, at Habitat's ReSTORE, 930 Pollock Street; Cravin' Wine, 1706A Highway 70 E; Mitchell Hardware, 215 Craven St.; and the UPS Store, 1822 S. Glenburnie Rd. Any remaining tickets may be purchased at the door for $35.
Submitted by: Suzanne Stewart, Habitat for Humanity of Craven County