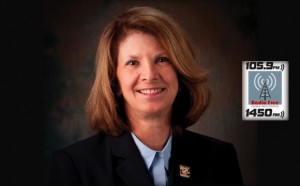 Laura Johnson enjoyed meeting Pat Schaible who's running for Alderman of Ward 3. She shared how she plans to make a difference in New Bern if she's elected in this radio interview with Laura Johnson. The interview will air on Radio Free ENC's WNOS 105.9FM and 1450AM. Listen to the audio here:
Learn more about Pat Schaible's Campaign by reading the below information provided by Pat:
I recognize and understand the difference individuals can make in their community and I'm ready to step up and serve New Bern at the next level. I will ensure that the voices of Ward 3 residents are heard. I will work for the PEOPLE and the CITY.
My educational background includes a B.A. from Cabrini College and an M.A. from Villanova University. I have 37 years of project management, resource planning, budget and financial management, and strategic planning experience.
I was employed by Merck & Co., Inc. for 30 years. In my tenure as Manager, Medical Education Programs, I never missed a budget. In fact, I was part of the financial team that made sure our entire department made its budget program targets. I worked with various teams from many backgrounds and cultures to ensure that our programs were on target, on budget, and delivered results to our partners.
Since moving to New Bern seven years ago, I have been actively involved with New Bern business and civic organizations, including three years as a consultant to New Bern's 300th Anniversary Celebration. My community involvement includes Vice President, New Bern Preservation Foundation; Chair, Depot 100; Commissioner, Historic Preservation Commission; Chair, Spring Historic Homes & Gardens Tour; Member of Tryon Civitans; and New Bern Police Department Civilian Volunteer. My dedication and service to the citizens and the City of New Bern demonstrates my commitment to making New Bern an even better place to live.
During my business career and city involvement, I have always worked as a team player to gain consensus and move forward. It is important to this city that the Alderman work as a team in concert with the mayor. We need to come to meetings prepared on the topic and listen to the citizens' views, and then make an informed vote. My background proves that I have the qualifications to fill this role.
The most important issue facing the city is economic development. Our location does not allow for economic development to spread from a major city; we need to develop a well-trained workforce, infrastructure, and an attractive overall appearance for our city.  We need an economic development program that will attract and encourage new business, which in turn creates a broader tax base. Attracting more people to New Bern also helps to foster future development. A clear direction and concerted effort by local government, the business sector, and the community at large is needed to achieve the goal of a vibrant city and the maintaining or escalating of property values for homeowners. I am ready to work with the elected Board of Alderman and Mayor to make this happen.
Another important issue is the enhancement of the Highway 70 corridor; it is important for the continued growth of New Bern. y generating new commercial businesses we will increase the tax base for both the city and the county. This would result in new job opportunities and increase surrounding property values.
Throughout my business and volunteering activities my motto has been (and will continue to be) "I am the steward of someone else's money" and I take that very seriously.
Call Pat Schaible at 252-635-5332, visit her website and Facebook page for more information!
Mark your calendars to vote on October 8, 2013.
Tell us what you think by commenting below or sending an email. "Like" New Bern Now's Facebook page to follow the latest happenings!
Wendy Card