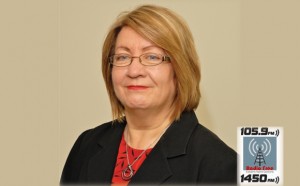 Laura Johnson enjoyed meeting Susan Namowicz's who's running for Alderman of Ward 3. She shared her plans on how she plans to make a difference in New Bern if she's elected in this radio interview with Laura Johnson. The interview will air on Radio Free ENC's WNOS 105.9FM and 1450AM. Listen to the audio here:
Learn more about Susan Namowicz's Campaign by reading the below information provided by Susan:
I respectfully ask for your vote on October 8 as I continue to move New Bern forward by:
– Following Fiscal Conservative style consistent with the policies of the present Alderman of Ward 3
– Attending New Bern Alderman meetings to observe teamwork and policy making procedures
– Leading Music Ministry for Youth at St. Paul's Catholic Church
– Supporting New Bern History through new ideas for Multicultural Festival and other community wide events
– Dedicating time to be accessible to constituents in Ward 3
My qualifications:
– MBA, Penn State University with Microfinance/Social Entrepreneurial focus
– Board Member of Minority Business Council/New Bern Chamber of Commerce
– Experienced in Business Development and Investments at Vanguard Group
– Conservative Fiscal Management as Senior Director of Upper Perk YMCA in PA
– Relationship Banker and Financial Services Representative at PNC and BB&T banks
– Previous Small Business owner of S&S Hobbies for over ten years
– Reduced costs and increased revenue by 25% as Business Consultant at a local business
– Chairman of Finance Committee, with Tri-County YMCA
– Increased fund raising by 6.5% as Loaned Executive with United Way of SE.PA.
– Supporter of New Bern Economic Development Plan's Small Business Initiative
Call Susan Namowicz at 252-772-8007, send her an email, and check out her Facebook page for more information!
Mark your calendars to vote on October 8, 2013.
Tell us what you think by commenting below or sending an email. "Like" New Bern Now's Facebook page to follow the latest happenings!
Wendy Card