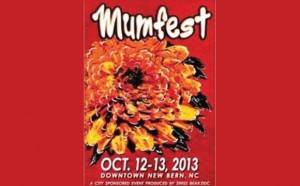 MUMFEST is a visual treat to the eyes and the ears where music is heard throughout downtown New Bern on October 12 and 13. Mumfesters know every year brings a wide variety of musical entertainment and this year is no different. Dance troupes, dulcimers, choruses and songwriters performing original music, in addition to the music mania on the Main Stage. Entertainment ranges from beach to barbershop and everything in between. This wide array of MUMFEST family and musical entertainment is free as it has been for the past 33 years.
Main Stage entertainment includes the following bands and vocalists on Saturday, October 12.  A performance schedule and detailed information can be found on the Mumfest.com website.
Be sure to catch Spiritmaster, a "Dubstep/Trap" electronic music show, like nothing you've ever experienced. The Spiritmaster has been crushing venues with deep bass, intense sounds and hard kicks, punchy snares and remixes of your favorite songs will keep your feet dancing.
Next up, The Carolina Casuals, a 9-piece band that has been entertaining audiences since the mid-1990s performing everyone's favorite beach, soul and rhythm & blues music. Featuring full horn, vocal & rhythm sections, they pride themselves on remaining true to the sound that Eastern NC has claimed as its own.
The Wannabees – classic rock done right. Based out of New Bern, NC the group plays the very best in classic rock. Perfect three and four part harmonies, dual guitar actions and rhythm section second to none, they deliver the goods.
The Southern Gentlemen Chorus is a chapter of the International Barbershop Harmony Society. This community service chorus sings in the barbershop style for the joy of singing.  Around for 20 years and widely known for their "Singing Valentines" and annual spring show, they will bring smiles and toe tapping to festival goers.
Billy Holton, founder of the Soul Shakers, lead guitar and lead vocals along with some very talented musicians has formed one of Eastern NC's favorite dance bands. Billy gets a soulful sound through his Fender Strait and Twin Amps to produce some funky rhythms. "Best sax and vocals around, bass monster, awesome Keys man, Mr. Feel Good, funky feel will send the vibe right up your backbone" are some of the words that describe this group as "best music around…bar none!"
On Sunday, October 13, the North Carolina Songwriters Co-op takes over as Eastern NC songwriters (members and non-members) perform. You will be treated to many new original songs and music in 20-40 minute shows. Songwriters who are interested in performing can send a recording and website link to bdsyndrome@earthlink.net with a brief bio and contact information.
To learn more about upcoming Mumfest entertainment and Swiss Bear Downtown Development Corporation go to www.downtownnewbern.com and www.mumfest.com.
Submitted by: Swiss Bear Downtown Development Corporation, 252-638-5781