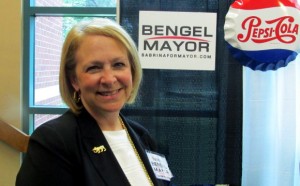 Laura Johnson and I had the pleasure of meeting with Sabrina Bengel, Alderman of Ward 1. Sabrina's running for Mayor of New Bern and she shared how she plans to make a difference in New Bern if she's elected in this radio interview with Laura Johnson. The interview will air on Radio Free ENC's WNOS 105.9FM and 1450AM. Listen to the audio here:
Laura asked Sabrina why she's running for office. Sabrina said, "I'm running to bring my leadership ability, my passion, and "can do" spirit to a higher level at City Hall. We live in a great community and we need a Mayor that is trustworthy, responsible, and somebody who will bring honor to the office."
Sabrina believes that her small business experience and community involvement has prepared her for office. Her experience has taught her how to lead people, manage budgets, and how to make things happen. She's ready to apply her marketing skills along with many other business practices to the position. She believes that her knowledge and experience will help her become a great Mayor.
When asked, "What are some issues that you plan to advocate or address as Mayor to help improve our economy?" Sabrina believes that the most important thing is to work on economic development. She said, "We need jobs, we need relocation, and we need people building houses. We also need to increase our tourism because that helps to create jobs and people spend money in our community". Sabrina plans to look at all of that because "the 500 pound gorilla in the room" is our electric rates and it has hurt some of our economic development. We need to continue to create more income in our system and more revenues through people relocating here. "By creating more jobs and more users, I think that is probably the number #1 thing I can do to help facilitate as the Mayor of this City".
She believes our city government really needs to continue to engage our citizens to assist us in revising our codes and ordinances which will help us be more accountable, transparent, and efficient towards government programs.
"We have got to seek creative ways to increase our revenues through additional grant opportunities, public and private partnerships, and be more proactive towards drainage, public safety, and electric rates."
As Mayor, Sabrina plans to work tirelessly with the Aldermen, City Staff, and our citizens to make New Bern a great City!
Learn more about how Sabrina Bengel plans to make a difference as the Mayor of New Bern by visiting her website: www.SabrinaforMayor.com or Facebook page: http://www.facebook.com/BengelForMayor.
Mark your calendars to vote on October 8, 2013.
Tell us what you think by commenting below or sending an email. "Like" New Bern Now's Facebook page to follow the latest happenings!
Wendy Card