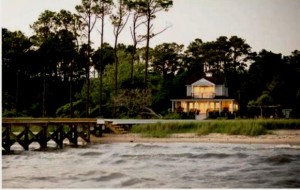 New Bern is receiving national recognition thanks to a new show on the DIY Network. "Blog Cabin" is an interactive show that asks internet users to vote on the design features of a remodeled or restored house. Once construction is complete, "Blog Cabin" awards the home to one lucky sweepstakes winner. For the 2013 edition, "Blog Cabin" restored an old cottage situated along the Core Sound in eastern Carteret County, but the show's website highlights New Bern – more than an hour away – in a segment on getting to know the area. Visit the website here: www.diynetwork.com/blog-cabin/.
"Obliviously this is great exposure for New Bern," said Mike Epperson, New Bern City Manager. "It demonstrates the potential draw that New Bern has, both regionally and nationally." One of the City's current goals is to strategically market itself to attract more businesses, residents, and tourists. The DIY Network is helping us achieve that goal.
New Bern is a unique city made up of many interesting and engaging places, and research conducted by North Star Destination Strategies – as part of the City's branding campaign – confirms that. New Bern is has a very high customer satisfaction rate; meaning once people visit; their experience exceeds their expectations and they want to come back. The key is, identifying ways to get more people interested in the area so that they will visit. That is the goal of a community-wide effort currently underway that includes several partners: the Chamber of Commerce, the Convention & Visitors Bureau, the Committee of 100, and Swiss Bear Downtown Development Corporation.
The uniqueness of New Bern – situated at the confluence of two broad rivers, where small town charm emerges with the cosmopolitan feel of a city, and three centuries of history bring the past and present together along our streets – differentiates us from anywhere else in eastern North Carolina. That difference is what sets us apart and can help attract and retain loyal visitors.
We are not surprised that the DIY Network chose to highlight our city as the focus of the region," said Mike Epperson. "The exposure that gives us is great and is helping us to tell the rest of the world what a wonderful place New Bern is".
Submitted by: Amy Hammond, New Bern – Craven County Visitors Convention Center