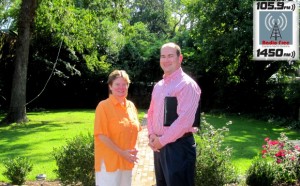 Laura Johnson and I enjoyed meeting Jeffrey Odham who's running for Alderman of Ward 6. He told us how he plans to make a difference in New Bern if he's elected in this radio interview with Laura Johnson. The interview will air on Radio Free ENC's WNOS 105.9FM and 1450AM. Listen to the audio here:
He's running because he believes that we need more accountability at City Hall. Jeffrey said, "Spending too much money is not in my background and forte. I feel like the City government should be run like a business. You can't spend what you don't have. We need commercial growth with more options such as restaurants and shopping. We need to keep the tax revenues local."
Jeffrey has a four year old son and he wants him to have that same opportunity that he had growing up in New Bern. He believes that, "We should reverse the trend of our young people leaving here."
Jeffrey's worked in the private sector his entire career. He said, "I've supported the operations of 129 commercial stores spanning 22 states." He's been responsible for $120 million budget. In 2002, Jeffrey and his wife started a small business in New Bern. He understands what it takes to be successful.
He believes the biggest issue facing New Bern is, "the lack of a long term vision. Most politicians are looking towards the next election cycle. I'm not a politician and I'll be looking 10, 15, and 20 years down the road."
"We have a multi-million dollar waterfront and it has limitless opportunities. First and foremost to correct that is we should involve the community. We should reach out to our local, successful business people and utilize their knowledge and should also reach out to the corporate community".
He believes, "We can grow and maintain the hometown feel that we've all grown to love".
Find out more about Jeffrey Odham by visiting his Facebook page: www.Facebook.com/ODHAMforWARD6 or call him at 252-636-5338.
Mark your calendars to vote on October 8, 2013.
Tell us what you think by commenting below or sending an email. "Like" New Bern Now's Facebook page to follow the latest happenings!
Wendy Card