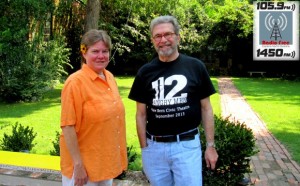 Laura Johnson and I enjoyed catching up with Director Alan Berger to learn more about the New Bern Civic Theatre's production of 12 Angry Men. Listen to the radio interview to air on Radio Free ENC's WNOS 105.9FM and 1450AM here:
When Laura asked, how did this play come to be – Alan responded, "A gentleman of the name of Reginald Rose wrote this play back in 1953. It was originally written for television. It was a 90 minute teleplay. Back then, the networks had live playhouses where they would broadcast plays and 12 Angry Men was one of those. Then it was made into a movie and eventually made into a play."
Alan said, "it appeared on Broadway late in the 50's, but it really achieved it's notoriety as a teleplay. The only reason Reginald Rose wrote the play is because he was on a jury and he thought, wow, this would make a good play. So he wrote a play about jury deliberations and it's been produced countless times since".
We learned more about the casting. Alan told us, "The casting was interesting because we need 12 angry men and in most community theatre environments, men are hard to come by". They're usually about 7-8 women for every man who wants to participate.
He said, "New Bern's very unique in that sense". When he directed 1776, he needed 24 men and he got 32 to audition.
The 12 Angry Men actors "run the gamut from age 17 – 75 so it's a real cross section of the community and everyone was cast to fit a specific character and they're doing a dynamite job!"
Alan hopes they have a great turnout!
Don't miss 12 Angry Men performance beginning September 13 and runs thru September 22. Shows are scheduled for Friday and Saturday at 7:30pm and Sunday matinees are at 2:00pm.
For tickets, call 252-633-0567 or visit the New Bern Civic Theatre's website and Facebook page.
Tell us what you think by commenting below or sending an email. "Like" New Bern Now's Facebook page to follow the latest happenings!
Wendy Card