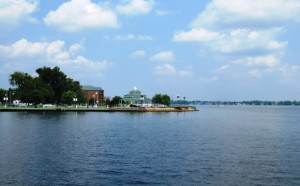 Warm weather is still here and many of us are having fun on or near the water.  Here are some requirements and tips to be safe.
Swimming-Rip Currents – Rip currents are channelized currents of water flowing away from shore at surf beaches.  They typically form at breaks in sandbars or near jetties and piers.  They are dangerous because they can pull people away from shore and can sweep even the strongest swimmers out to sea.  If caught in a rip current, stay calm.  Don't fight the current but swim in a direction parallel to the shore line until free of the current.  Then, when the current weakens, swim at an angle away from the current and toward the shore.
Federal and state requirements for boats:
Boater Safety Education- Any person under the age of 26 must complete an approved boating education course before operating any vessel propelled by a motor of 10 HP or greater.  Courses are offered by organizations like the US Coast Guard Auxiliary and the US Sail and Power Squadron.  Also, the course and exam may be taken on-line.
Life Jackets – Every vessel must have life jackets that are US Coast Guard approved, in serviceable condition, and readily available for use in an emergency. Children 12 years and younger must wear a properly fitted life jacket when on any vessel. Boats over 16' must also have a throwable cushion.
Visual Distress Signals – Vessels are required to have at least three red hand flares. Optional aerial flares have a greater chance of being seen over longer distances. To be in compliance, flares must be within the expiration date marked on them, but expired flares may be used as backups.  Other devices include flags and signal mirrors to attract attention when help is needed.
Fire Extinguishers – Every vessel should have at least one fire extinguisher. The Coast Guard has published a list of the required number and type of fire extinguishers commensurate with boat length.  They must be readily accessible and verified as serviceable.
Navigation Lights – Recreational vessels are required to display navigation lights between sunset and sunrise and during periods of restricted visibility.  Boats 16 feet or more must have properly installed, working navigation lights (red, green and white) and an all-around anchor light capable of being lit independently of the navigation lights.
Sound Producing Devices – Vessels less than 39.4 feet must have some means of making a sound signal. Many boats have a built-in horn, however a hand-held device such as an air horn or whistle is acceptable for use or as a backup in case of battery failure.
Negligent Operation – Federal law prohibits the negligent operation of a vessel so as to endanger lives and/or property.  Actions that constitute negligent operation include operating a boat under the influence of alcohol or drugs, bow riding, riding on a seatback, gunwale or transom.  It is especially dangerous for small children to sit on the bow with their feet dangling over the side.
Here are a few references for additional requirements and other information.
U.S. Coast Guard Auxiliary
www.cga;ux.org
United States Power Squadrons
www.usps.org
National Safe Boating Council
www.safeboatingcouncil.org
North Carolina Wildlife Resources Commission
www.ncwildlife.org
Enjoy a fun and safe time on or near the water!
Submitted by Link Bonforte, Community Coalition for Craven County Children