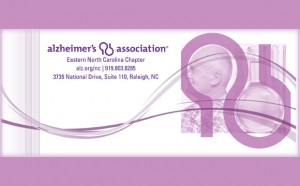 An Evening with Dr. John Steel
September 12th from 6pm – 7:30pm
New Bern Riverfront Convention Center, Tryon Rooms A & B
Nationwide, over five million people are currently living with Alzheimer's disease, the 6th leading cause of death in America. Today, one in three seniors is dying as a result of Alzheimer's.
The Alzheimer's Association Eastern North Carolina Chapter is presenting an evening of learning about Alzheimer's disease and related dementias. Don't miss this insightful presentation by Dr. John Steel of Atlantic Neurology, a renowned neurologist and diagnostician in the field. Dr. Steel's presentation, Alzheimer's and Related Dementias – What You Should Know, will be informative and bring you up to speed on the latest in Alzheimer's disease and dementia.
Don't miss this important opportunity of awareness and information in your community. Heavy hors d'oeuvres will be served.
Please call 919-803-8285 or send an email to RSVP to this free event.
Submitted by: Amy Julian, Development Specialist, Eastern North Carolina Alzheimer's Association