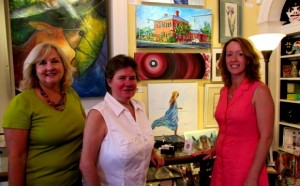 Laura Johnson enjoyed interviewing Lisa Bisbee Lentz, co-owner of the Greater Good Gallery and Isaac Taylor House and Gardens and local artist, Carol Jones.
Listen to the radio interview aired on Radio Free ENC's WNOS 105.9FM and 1450AM here:
Carol's a talented painter and is very active with the Greater Good Gallery. Although she lives in Newport, NC, she volunteers a lot of her time welcoming people to the Isaac Taylor House and Gardens.
When asked what she enjoys most about her time tending to the gallery, she said, "I really love the pleasant atmosphere. I'm always learning about art and the Isaac Taylor House and Garden".
Although it's not required, Lisa asks the Greater Good Gallery artists to demonstrate their work and be on location. Carol spends a lot of time volunteering and you'll see her welcoming visitors as she paints in the entrance hall.
Carol brings her oils with her and paints and interacts with the visitors from all over the United States and World. You'll find other artists doing the same on other days of the week.
Lisa said, "There's more to do at the Gallery than just stopping in to see the house". There's the Historic Isaac Taylor Garden and the amazing house dating back to the Civil War.
The Isaac Taylor Garden is a terrific place to have a wedding, host a meeting, and many other things. New Bern Now had one of our "Community BBQ Lunch's in the Garden".
Carol said, "We have a large variety of art from traditional to abstract, we have pottery, jewelry, handmade cards, and photography, everyone is accepted here. The Greater Good Gallery accepts even the most amateur artists".
I can attest to this because I have two pieces of "Enviro Art" in the Gallery: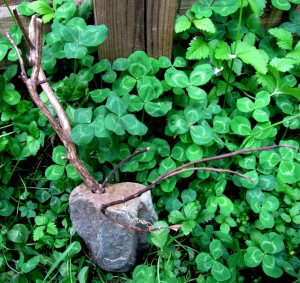 Although I don't have any expectations of anyone buying them, I wanted to show people a few examples of Nature's bounties.
Lisa mentioned that they have amateur artists at Bohemian Night during Artwalk. Bohemian Night was started at Michaelé Rose Watson's Studio at 413 Broad St. It moved to the Greater Good Gallery in the Spring as the Garden provided a larger venue. Stay tuned to New Bern Artworks and Company's website as they are hosting Bohemian Night on September 13th, 2013. Bohemian artists will be displaying their work in front of the New Bern Artworks on Pollock St.
During Artwalk, the Isaac Taylor Garden is filled with aspiring artists along with hundreds of people who visit the GGG. Artwalk has become a major event throughout downtown! Visit the Craven Arts Council at the Bank of the Arts website for a detailed listing of participating businesses
Visit the Greater Good Gallery at 228 Craven St., New Bern. Hours of operation are Monday – Saturday from 10am – 6pm.  Check out their website and Facebook page. For more information, call 252-649-1712.
Did you know that the Isaac Taylor House and Garden is New Bern Now's corporate office? Since we usually spend most days out and about around town, please give us a call at 252-638-6858 or send us an email to schedule a meeting.
On a side note, The Isaac Taylor House and Garden are owned by Mike Lentz (also owner of MJ's Raw Bar and Grill) and his new bride, Lisa Bisbee Lentz. We are so very happy for Lisa and Mike! If you missed their wedding in the Isaac Taylor Garden last weekend, it was incredible!
We hope you enjoy your visit to the Greater Good Gallery. Lisa Bisbee Lentz joined NBN's team in April 2012 as our Assistant Editor in Chief. We really appreciate her "Eye for design" as she helped me rebrand NBN's website!
Tell us what you think by commenting below or sending us an email. Visit New Bern Now's Facebook page or sign up for the latest updates by submitting your email address in the right margin on New Bern Now's website.
Wendy Card