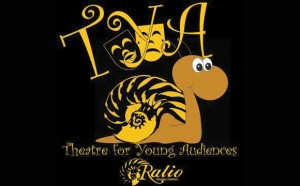 Ratio Theater Company's new program Theatre for Young Audiences (T.Y.A) will offer the children of New Bern an exciting opportunity to experience professional theatre and classic literature. Ratio T.Y.A is a FREE Summer Series for ages 3 and up, and runs Tuesdays & Thursdays at 10:00am from July 9 – August 8, 2013 at Union Point Park.
The interactive, fun, group sessions will include plays that are written and produced specifically for young audiences. These will include classic tales as well as new and fun presentations, such as The Ransom of Red Chief July 9 & 11; Just So Stories, July 16 & 18: Yankee Doodles, July 23 & 25; Back When the Animals Talked, July 30 & August 1; and CRASH-BOOM-BANG, August 6 & 8. If it rains on Tuesday or Thursday the play will be on Friday of that week.
Ratio Theatre Company is a 501(c)(3) non-profit For more information about Ratio T.Y.A go online at www.ratiotheatre.org or call 252-626-0358.
Submitted by: Darian Dennis, Ratio Theatre Company