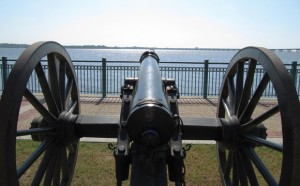 The community of James City, North Carolina, located between New Bern and Havelock in Craven County, will proudly celebrate their 150th Anniversary on July 5-7, 2013. The general public is invited to take part in the celebration!
The celebration will begin with registration and an Opening Ceremony at the James City Community Center, located on Plum Street, on Friday, July 5, 2013 beginning at 1:00 p.m. Registration will be from 1:00 – 6:00pm and is free. Donations of $25 will be greatly appreciated at the time of registration.
The Opening Ceremony begins at 6:00pm at the Reform Shiloh M.B. Church located at 406 Plum Street. Wrist bands will be distributed during registration and attendees must have a wrist band to participate in activities. Registration will be open again at 7:00pm. A cookout at the James City Community Center will follow from 7:30 – 9:00pm with a music DJ and street dance beginning at 8:00pm. All activities will end at midnight.
On Saturday, July 6, 2013 there will be a parade from 9:00 – 10:00am. lining up at the beach at the corner of James & Vail Streets. The parade will start down Vail Street, circle around to Old Cherry Point Road, turn left and then right onto the service road, then head right on Elder Street, turn right on Williams Street and end at the corner of James and Williams Streets.
Activities including a water slide for children, balloons, face painting, BINGO, jump rope and hula hoop contests, horse shoe games, checkers, chess and card games, a duck hunt, a cake walk and more will take place at the James City Community Center and Dixie Field following the parade beginning at 10:15am.
The celebration will also feature a family history display in the Reform Shiloh M.B. Church's Fellowship Hall located at 406 Plum Street. From 11:00 a.m. until 12:30pm. tours will be offered at the Slave Quarters with a live re-enactment. Lunch will follow from 12:30 – 2:00pm and wrist bands are required. A Magic Show will follow lunch from 2:00 – 4:00pm and Pony Rides will be offered from 3:00 – 6:00 pm. At 4:00pm a
Dedication of the Improvements in the Village will take place. There will also be a gospel concert from 4:15-5:15 p.m. at the historical Mount Shiloh Missionary Baptist Church located across the street from the Reform Shiloh M.B. Church at 307 Scott Street. Dinner will be available from 6:30 – 7:30pm with a Street Dance beginning at 8:00pm.
The celebration will wrap up on Sunday, July 7, 2013, with a Worship Service from 8:30 – 10:30am under the big tent near the church. There will be a message delivered by Minister Ira Credle with music performed by the James City Community Choir.
For more information on this celebration, please contact Mr. Craig Allen at 252-514-3408.
Submitted by: Submitted by: Amy Hammond on behalf of James City Community