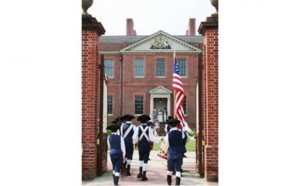 Tryon Palace will celebrate Independence Day with costumed interpreters, a performance by the Fife and Drum Corps, a live reading of the Declaration of Independence and free garden admission on Thursday, July 4.
In 1783, North Carolina Governor Alexander Martin became the first U.S. governor to issue a state order for celebrating the Fourth of July. This special day offers the public a chance to step back in time and join the festivities of one of America's earliest celebrations of the Glorious Fourth. In addition to free gardens and a live reading of the Declaration of Independence, visitors will enjoy patriotic speeches, dancing, games and kids' crafts.
Roaming interpreters will be performing across Tryon Palace's grounds and gardens. In addition to Governor Alexander Martin, visitors should expect to meet the following: Alexander MacAuslan, a loyalist; Elenor Pittman, a war widow; and Ben, a slave of Governor Alexander Martin. Period music and dance from the Poppes will also take place at 10 a.m., noon and 2 p.m.
Visitors are invited to cool down throughout the day with lemonade from Richard Cogdell's Ordinary, located in the Kitchen Office Courtyard. Tryon Palace also invites families to bring a picnic lunch and enjoy their entire day immersed in the past.
Free garden admission lasts from 9 a.m. until 7 p.m., and all special Fourth of July activities will run from 9 a.m. until 3 p.m. The live reading of the Declaration of Independence and the Fife and Drum Corps performance begins at 11 a.m. on the Palace front steps.
Admission is free for all events on the Glorious Fourth, however, interior tours will require the purchase of a ticket.
For more information about the Glorious Fourth call 252-639-3500 or visit www.tryonpalace.org.
Submitted by: Craig Ramey,  Marketing and Communications, Manager, Tryon Palace