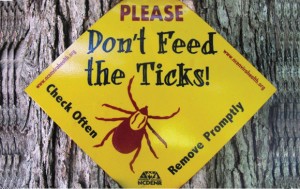 As an outdoor enthusiast, I've spent hundreds of hours in the great outdoors in Eastern, North Carolina.
During my travels, I couldn't help but notice that ticks are attracted to me as if I was magnet. I've used all kinds of insect repellent, but noting seemed to work.
The closest thing that actually worked was pharmaceutical grade Permethrin ointment and spray, but that comes with a cost as it can cause health risks to humans and can be detrimental to our environment.
I noticed the above sign at the canoe launch at Creekside Park in New Bern.
This sign is a terrific reminder to all! No matter if you're in your sitting in your backyard or you venture into the Great Outdoors! Check yourself often and remove ticks promptly. If you heed to this advice, you may prevent numerous diseases that ticks carry. Check yourself or do a "buddy check" if you're at a place where you see ticks.
A good preventative is "No-Bite-Me" ointment, soap, or other products by www.sallyeander.com. You can purchase them at Mitchell Hardware. Even if you have a "tick encounter" and remove this major pest, this product can help soothe the incredible itching that follows for a couple weeks.
Until I used No-Bite-Me, I've actually had at least 30 ticks embedded in my skin after spending 10 days in the woods (I used bug spray, but obviously it didn't help). After using No-Bite-Me, I only found one tick bite and couldn't find the tick as it probably moved on.
This product works for chiggers, mosquitoes, and other insects. It's an all natural product made up of essential oils that deter these pests. It is not harmful to children, pets, or adults and has a pleasant smell of cedar wood.
Please know; I'm not getting paid by Sallyeander or Mitchell Hardware to spread the word. I want other people to enjoy the Great Outdoors and not have to worry about many unwanted pests.
It could also help save your life as ticks carry Lyme's Disease and Rocky Mountain Spotted Fever; and mosquitoes carry West Nile Virus.
Tell us what you think by commenting below or sending us an email. Visit New Bern Now's Facebook page or sign up for the latest updates by submitting your email address in the right margin on New Bern Now's website.
Wendy Card