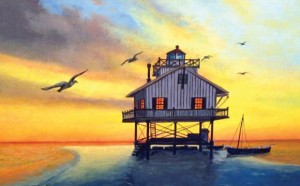 Works by members of the Twin River Artists Association (TRAA) are on exhibit from July 12 through the end of August at the Duffy Exhibit Gallery of the North Carolina History Center, 529 South Front Street in New Bern. The opening reception and awards presentation take place 5-8 p.m. on July 12 during the Downtown New Bern ArtWalk. The Duffy Gallery is the primary exhibit space for Craven Arts Council & Gallery (CAC & G) while renovations continue at the Bank of the Arts on Middle Street. When that facility re-opens in September, however, exhibits will continue at both facilities.
This year's juror for the TRAA show is Janet Francoeur, a distinguished local artist and owner of Carolina Creations. Francoeur selected art to be included in the show and also selected all prize-winning works, with the exception of the People's Choice Award. Each visitor is invited to vote for his or her favorite work, and the award-winner is announced after the exhibit closes at the end of August.
The TRAA show is always a favorite for its range of artwork, and invariably there's something to appeal to every viewer. TRAA has more than 100 member artists, whose works span painters in all media, sculptors, potters, woodworkers, fiber artists, jewelers and metalworkers.
TRAA's focus is to promote and encourage the creation, education and appreciation of fine art throughout the region. For more than 30 years, CAC & G has served as the focal point of cultural opportunities in Craven County.
The Duffy Gallery is open 9 a.m. to 5 p.m. Monday through Saturday, and 12-5 p.m. on Sunday. Contact CAC & G at 252-638-2577 or visit www.cravenarts.org.
Submitted by: Beverly Foster, Craven Arts Council & Gallery