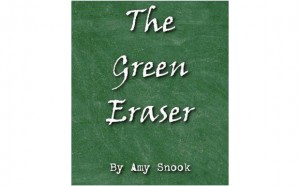 Amy Snook's short novel, The Green Eraser, is available for purchase at Amazon.com and at Greater Good Gallery in downtown New Bern.
"I have many stories to write, but I wanted my first story to be about this subject.  Being the new kid at school is difficult for any child.  Imagine how difficult it is to be accepted if you are a refugee from another country," says Snook.  With over six years of experience teaching English as a second language, Snook has developed a deep respect for students who are trying to fit in at school while learning English.
The Green Eraser is set in contemporary small-town America. Though geared toward young adult readers, this fast-paced novel appeals to a wide audience and addresses relevant issues such as immigration and prejudice.  The plot centers on Hay Thu, a new student from Burma.  His arrival is met with a variety of responses.  Some people are happy to have Hay Thu and his family in their town.  Many people are ambivalent, even angry about the newcomers.  Ultimately, the students in Hay Thu's class learn that the desire to belong is universal.
Snook will be a guest reader at the New Bern-Craven County Library's Young Adult Summer Reading Program Series on Monday, July 22, 2013 from 4:00 – 5:30 p.m.  Additionally, she will hold a book signing of The Green Eraser at the Greater Good Gallery on Tuesday, July 23, 2013 from 2:00 – 6:00 p.m.
Submitted by: Amy Snook, Author