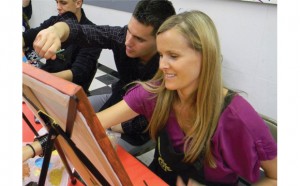 Fall art classes for children begin Sept. 2 with Bear Cubs class for children ages 3-6. Our after-school program now runs three days in the week, instead of just one day. We offer pottery on the wheel, hand-building pottery, and a new class this fall, Exploring Japanese Art. Adult pottery classes are on Tuesday and Thursday nights. Adult Paint &Wine Parties are on Friday and Saturday evenings. We even have a kids painting club on Saturdays. For more information please see our calendar at: www.bearhandsart.com
Enjoy an evening painting at our studio. You don't need any art experience to enjoy this activity, where you can try something new, meet new people or bring your friends along. All the materials are provided for you and our teacher will lead you step-by-step through the selected painting for that night. You're sure to have a great time and leave with a painting you can be proud of.
Bear Hands Art Factory has moved to a more convenient location! We are now at 1208 Pollock St., right next to The Ghent Sandwich Shop. We have a big parking lot right in front of our door so dropping off and picking up children will be much easier. You will also enjoy our beautiful new facility, freshly remodeled to make your art evening really special. Check us out soon!
Submitted by: Shelley Mathiot, Bear Hands Art Factory, 252-514-ARTS (2787)