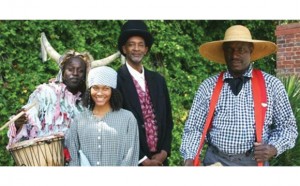 Do you want to Jonkonnu? Tryon Palace's popular 19th–century African American interpretive performance group with hold workshops for those interested in joining the troupe.
Workshops will be held on Tuesdays from June 18 to August 6.
Men, women, and children are invited to learn dancing, drumming, and the history behind Jonkonnu. Thanks to a generous grant from the Tryon Palace Foundation, each workshop is free to the public and will be held at 1pm in the Waystation Auditorium.
Dates:
June 18: Introduction to Jonkonnu and a talk about its importance.
June 25: Master the correct dancing steps and movements for each song.
July 2: Learn drumming methods.
July 9: Begin to pull the drumming and dancing together as one.
July 16: Dancing techniques and a mask workshop where the kids will make a beautiful Jonkonnu mask.
July 23: Continue practicing the combination of drumming and dancing.
July 30: Rehearsal for the final performance.
August 6: Final Jonkonnu performance with be at the front gate of Palace at 2pm (Waystation is foul weather location).
Submitted by: Craig Ramey, Marketing and Communications Manager, Tryon Palace