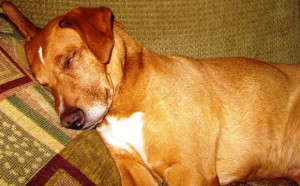 I hope that this is just a reminder and that you already know these things – but as I observe dogs and their people, I realize that these ideas are easily forgotten or overlooked.
Under no circumstances leave your dog in your car while you run errands in this heat.  A cracked window does nothing to lower the temperature in a quickly overheating parked car.  It might seem like five minutes to you but it could be fatal to your beloved pet.  Heat stroke can cause permanent brain damage; and, of course death.  This also goes for leaving your dog with the air conditioning running.  Several years ago, New Bern lost a Police Dog that was left in the Police car with the air conditioning running; and when the officer returned, the air conditioning had failed and the dog was dead.  Don't let this happen to your pet.
If you see a dog in a parked car, please be a Good Samaritan and call Animal Control in New Bern 633-2020 or 637-4606 in Craven County.  River Bend can call 638-1108.  If you have a community Police Department (Trent Woods, Fairfield Harbour) call them and tell them that it is an emergency – come quick.  Let them break the window.
Another no-no is taking your dog to parades and festivals during the hot months.  If you have any doubt, put your bare hand on the asphalt and see how hot it is.  Remember your four legged friend will be walking bare foot on this boiling hot surface.  They are much better off at home in the air conditioning, patiently waiting for your return.  You wouldn't want to attend the festival in a fur coat and neither should they.
People think that taking their dogs to the beach in the summer is a real treat.  I am a wedding minister and am not booking any beach weddings in July and August because it is just too hot.  I have received blisters on my feet standing on the hot sand performing the ceremony.  If you want to take your dog, go early or late and walk down by the water where the sand is cooler.
How about the dogs that live outside all their lives?  Be sure that they have shade and plenty of fresh water.  They would probably enjoy an ice cube added to their water.  If you have a neighbor that keeps their dog outside, be a Good Samaritan and take the dog something cool during the day and check to see that it can get to the water bowl and shade.  Be a nosey neighbor.
I also put out an appeal for all the feral cats and wild animals that could use a nice cool drink during the hot summer months.  Keep a bowl or container outside with fresh water so that they can get a drink.  It is also nice to have a bowl by your mail box for the dogs taking their walks that could use a drink.  I see that so many of the store owners in downtown New Bern are considerate to their fur covered friends and their owners and have water bowls handy.
The summer heat is intense in Eastern North Carolina.  Let's all do our part to keep our animals safe and alive.  These precious animals look to us to help and protect them.
Submitted by: Bonnie Compton, Pals for Paws