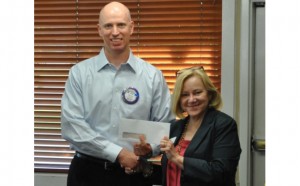 Craven County Partners In Education was recently awarded $500 from the New Bern Breakfast Rotary Club.
The mission of the New Bern Breakfast Rotary Club is to provide service to others, promote high ethical standards, and advance world understanding, goodwill, and peace through its fellowship of business, professional, and community leaders.  The monies awarded from the New Bern Breakfast Rotary Club will be allocated to the PIE Grant fund. During the 2012-13 school year, the PIE Grant program enjoyed great success.
Partners In Education was able to award $22,878.68 to 18 deserving teachers for creative and innovative projects in the classroom.
When your organization makes a gift, they become a partner and each year we have seen the difference our partnerships make in Craven County classrooms.
If would you like to learn how your organization can make a difference to a teacher in the classroom, please contact Darlene Brown, Partners In Education, at 252-514-6321.
Submitted by: Darlene J. Brown, Executive Director, Partners In Education, 3600 Trent Rd., New Bern, NC