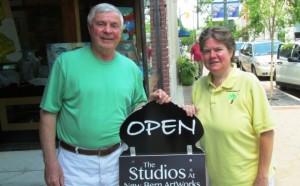 Laura Johnson had the pleasure of interviewing Jim Bisbee, local potter and part owner of New Bern ArtWorks Fine Art Gallery. Listen to the radio interview aired on Radio Free ENC's WNOS 105.9FM and 1450AM here:
Jim Bisbee was excited to announce their new show called "Coastal Views" presented by New Bern ArtWorks.
"Coastal Views" is a body of works by painters, Barbara Hesketh, Ken Wallin and Karen Crenshaw who specialize in coastal scenery.
Jim said, "Barbara Hesketh is very good at capturing the skies so her coastal scenes feature wonderful cloud formations" and he calls her the "Mistress of the Clouds".
"Ken Wallin's work as captures people doing everyday things around the coast, men tending nets, boats fishing in the surf, shrimp boats and other things". Jim believes, "he paints with a pallet knife so it has a wonderful texture".
Jim said, "Karen Crenshaw's forte is capturing the coastal marshes and she does that wonderfully. When you look at her work you can almost see the motion of the grasses".
The exhibit will be on display from June 1st, 2013 through July 6th, 2013. They are also looking forward to featuring work by Joanne Giesel during Artwalk on July 12th with reception from 5pm – 8pm.
Visit New Bern Artworks and Company at 323 Pollock St. They are open daily from 10am – 6pm. For more information, call 252-634-9002 or visit their website and Facebook page.
Tell us what you think by commenting below or sending us an email. Visit New Bern Now's Facebook Page.
Thanks for visiting New Bern Now!
Wendy Card