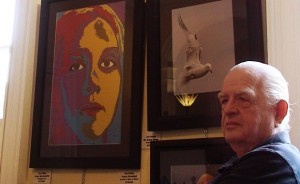 Laura Jonson interviewed Jon Derby about the upcoming Artwalk on July 12, 2013. Listen to the audio to be aired on Radio Free ENC's WNOS 105.9FM and 1450AM here:
Laura asked Jon how he became an artist and he said, "I retired to New Bern from Hawaii determined to do something other than playing golf". So he became involved in some photography classes at Craven Community College, as a student, and later as a lab assistant.
Jon's artwork includes, "photography, painting, mixed media, with computer art being his first love".
When he was first invited into the Bohemian Art group he was "stunned", as he never thought of himself as an artist, "however, being with this group of talented people has convinced me that being an artist is what he wants to be".
Jon said, "Michaelé Rose Watson, Lisa Bisbee, and the Bohemian group has opened a lot of doors for me into the local arts scene. First it was at the Artwalk where I was able to display my work and talk to people who came to see our art. It was also a chance to meet, talk to, and watch the many artists in action and displaying their work."
Later his involvement with the Bohemian group, "led to an invitation by Lisa Bisbee to be a part of the Greater Good Gallery where I can display my work on a daily basis".
After the interview, Laura and I enjoyed learning more about Jon on a personal basis. Although I've met Jon before and have seen him around town, it was a pleasure getting to know him. Jon Derby was in the US Army and is a Vietnam Veteran. He taught school and eventually became Principal of a school in Hawaii. He told us that he uses has art as a way of conveying the reality of war.
New Bern Artist, Michaelé Rose Watson began hosting Bohemian Night during Artwalk at her studio located at 413-B Broad Street in 2012. The tradition continues at the Greater Good Gallery and the Isaac Taylor Garden at 228 Craven Street.
Visit Jon Derby and the Bohemian Artists during Artwalk on July 12 from 5pm – 9pm at the Greater Good Gallery and the Isaac Taylor Garden, 228 Craven Street, Downtown New Bern. For details, call 252-649-1712.
Tell us what you think by commenting below or sending us an email. Visit New Bern Now's Facebook page or sign up for the latest updates by submitting your email address in the right margin on New Bern Now's website.
Wendy Card