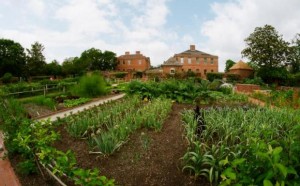 Kitchen Garden Tours and First-Ever Tour of the Conservation Lab Set for May
Take a rare "Behind the Scenes" look at Tryon Palace during the month of May with three separate tours of the Kitchen Garden and a first-ever glimpse inside the Conservation Lab.
Kitchen Garden Tours will be held at11 a.m. and 2 p.m. on the Fridays of May 3, 17 and 31. There will be only one tour in May of the Conservation Lab held from 11a.m. until noon on Wednesday, May 15.
Led by a member of Tryon Palace's experienced and knowledgeable gardening staff, Kitchen Garden Tours will take visitors through the Palace grounds and the Kitchen Garden. In addition to the garden's practical uses, this tour delves into the uses vegetables and produce have from both a modern and historical perspective. Staff members will also explain the preparation, planting, harvesting and continuous care taken in the Kitchen Garden by the gardening staff and volunteers.
Tours of the Tryon Palace Kitchen Gardens will begin at the Governor's Palace main gate, located on Pollock Street, and are included with the price of regular admission. Tickets may be purchased separately at a cost of $6 for adults and $3 for students.
Those looking for a tastier, more intimate look at Tryon Palace's Kitchen Gardens can purchase tickets to "Savoring Spring: A Candlelight Dining Experience at Tryon Palace." This dinner will be held at the Kitchen Office on Friday May 10 and seating is extremely limited. Call 252-639-3524 for tickets and additional information.
Tryon Palace's "behind the scenes" experience continues on Wednesday May 15 with a Tour of the Conservation Lab. This rare look at items not currently on display to the public will show visitors how the Collections staff repairs and preserves artifacts for generations to come. This tour of the Conservation Lab is the first Tryon Palace has offered to the general public.
Tickets may be purchased with or without a general admission ticket for the same price of $6 for adults, $3 for students. They are available at the main ticket desk at the North Carolina History Center and a shuttle will leave from this same location at 11 a.m. to begin the tour. Space is limited and reservations are recommended by calling 252-639-3500.
For a complete list events happening at Tryon Palace visit www.tryonpalace.org/calendar.
Submitted by: Craig Ramey, Marketing and Communications, Manager, Tryon Palace