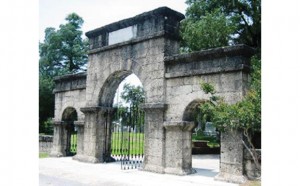 Spring tours at historic Cedar Grove Cemetery resumed on Saturday, April 6 at 4 p.m. The tours will be offered each Saturday in April and May as part on an ongoing effort to promote preservation of the Cemetery, which is listed on the National Register of Historic Places.
Established in 1799, Cedar Grove Cemetery contains more than 1000 marked graves.  Some of the earliest "residents" fought in the American Revolution, and the cemetery abounds in gravesites of Confederate soldiers. Others buried at Cedar Grove were artists, educators and politicians who played key roles in the early North Carolina history.
Preservation of Cedar Grove is the focus of the Earl of Craven Questers, a group comprised of 20 women who reside in the Downtown Historic District. The local group is a participating unit in Questers International, which supports preservation in this country and Canada. In the past dozen years the Earl of Craven Questers have raised and invested more than $40,000 in preservation work at Cedar Grove.
Currently the Earl of Craven Questers are partnering with the City of New Bern on two major projects – landscaping of the Confederate Memorial and repair of the main entry to the Cemetery, the so-called "weeping arch."
Tours begin at 4 p.m. each Saturday at the weeping arch on Queen Street. Tickets may be purchased in advance at the New Bern History Society or at the tour site. The cost is $10, with all proceeds going to preservation work at the Cemetery. For further information call 635-1374.
Submitted by: Amy Hammond, New Bern – Craven County Visitor Center