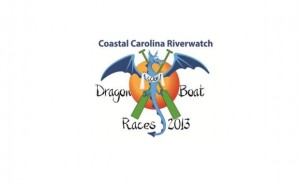 July 27, 2013
Union Point Park, New Bern, NC
Coastal Carolina Riverwatch announces its 2013 plan to host a major Dragon Boat race event in New Bern at Union Point Park, where the Neuse and Trent Rivers meet. The event is scheduled for July 27, 2013.
Dragon Boat races were successfully introduced to the New Bern community in 2012. Races conducted off Union Point Park generated large and enthusiastic participation. Since then, many have asked, will it happen again and be bigger and better?
The Dragon Boat races are on for 2013! This year, High Five Dragon Boat of Brandon, Florida will be hosted by a newly formed river protection group, Coastal Carolina Riverwatch, whose headquarters is located in New Bern at 1305 Country Club Road. Coastal Carolina Riverwatch works to restore and protect the rivers, creeks, streams, wetlands and communities throughout eastern North Carolina. It's a young organization that is rapidly growing and quickly making its presence felt here on the Trent and Neuse Rivers, as well as other rivers in eastern North Carolina.
Dragon Boat races are exciting! Certainly, they are very enjoyable to watch. For many, real fun comes from paddling one of these 45 foot dragon boats in sync with a drummer's beat in races with others on a boat. It is a wet, wild and thoroughly enjoyable experience.
"It's a wish come true," said Diane Baldwin, Coastal Carolina's Riverwatch's event chairperson for 2013. "This event was so well received by the community. So many people have told me they want to do it again. This is really going to be great."
"I am very excited about sponsoring this event", said Rick Dove, President of Coastal Carolina Riverwatch. "Promoting an activity like this on the Neuse and Trent Rivers is good for the rivers and good for the community. These waters belong to us. As we are working hard protecting them, we should enjoy all they have to offer.  It's valuable property – an inheritance to be passed on to our children."
How to enter the race? Individuals will be able to sign up and join with others and businesses can sponsor a full boat and fly their names and logos in races against others. It's a blast! There may be limits on the number of participants, so early sign up is encouraged. For complete details visit www.ccriverwatch.org or call the Riverwatch office at 252 514 0269.
For more information, call the Coastal Carolina Riverwatch at 252-514-0629, send an email, or visit www.ccriverwatch.org.
Submitted by: Rick Dove, President Coastal Carolina Riverwatch