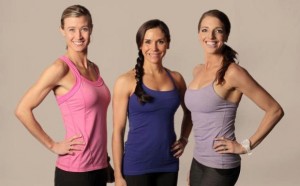 New Bern-area woman helps form a community of moms striving to achieve balance
When Debbie Wilkins' husband died suddenly last year, the Winston-Salem mother of four young boys relied on her network of friends, family and faith community.
When her church friend and fellow small group member Emily Saunders invited her to help start an all-inclusive, one-stop community to support and encourage other mothers, she decided to go all in.
Now Wilkins, Saunders, and Kate Horney (New Bern, NC) are the co-founders of Momsanity, an online community of mothers striving to achieve balance through physical, emotional and spiritual wellness.
"Women are hard-wired to try and 'do it all,' and that pressure only builds when kids are in the mix," said Wilkins, a stay at home mom turned certified Metabolic Effect trainer. "The truth is, no one has motherhood all figured out. We hope Momsanity provides welcome place for moms to be themselves and seek comfort and advice from others juggling the same demands day in and day out."
Momsanity's emphasis on helping busy mothers find balance is timely. According to a recent survey by Pew Research Center, 56 percent of working moms find it very or somewhat difficult to balance the responsibilities of paid work, housework and childcare. A 2010 survey by the American Psychological Association found that women are more likely than men to experience physical and emotional symptoms of stress from trying to be "supermom."
Like many mothers, the Momsanity coaches have realized that they cannot be everything to everyone. Their goal to create a one-stop resource for moms seeking fellowship, tools and information surrounding four key pillars: motherhood, faith, fitness and nutrition.
Through quick and simple fat loss focused workouts, on-the-go nutritious meals, positive mindset techniques, daily devotions, and tons of practical information provided via Facebook and their website (www.projectmomsanity.com), Momsanity coaches aim to help moms like them to achieve their own version of balance.
The idea originated last summer, when Saunders and Horney, who lives in Wilmington, met when they were both pregnant. When they realized they had similar perspectives on faith, fitness, nutrition and their approach to parenthood, they started working together to create a community for other fit moms after their babies were born. That's when Wilkins got involved, and the three began sharing their real world experiences that, hopefully, would resonate with other moms.
For example, Saunders, whose first child is just four months old, has been open about her struggle with infertility and her efforts to juggle the seamlessly ending demands of a new mom, busy wife, personal trainer and community volunteer. She says Momsanity's focus on healing and faith highlights a source of strength many women don't publicly recognize.
"We truly hope that Momsanity becomes a faith community where women can grow together while seeking an intimate relationship with God," said Saunders. "We are real moms putting it all out there in an effort achieve and sustain overall well being."
Momsanity seems to be striking a chord. Since launching the community in January, the Facebook page has gotten nearly 1,200 likes.
"Being a mom is an amazing job but it's difficult. You're on your own and, even in the fitness industry, proper guidance in what it really means to balance faith, fitness, nutrition and motherhood is almost nonexistent," said Horney, who has long worked with women in spreading the message of fun, sustainable fat loss.  "Advice on hour-plus workouts at the gym or meals that are nothing more than asparagus and chicken breast are everywhere online. But what mom has time for/wants to eat that?  That's why we decided to let other trainers cover those outdated topics and stick to what really makes a new mom successful in real life on our site."
Written by Contributing Author: Kate Horney, Founder, Beyond Fitness Physiques