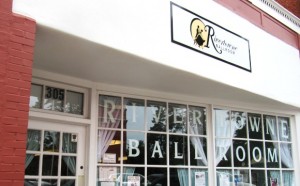 Rivertowne Ballroom will be hosting live acoustic jazz nights in New Bern the 2nd Friday of every month beginning with their first event on Friday, May 10th from 7 – 10pm.
"Fools Rush In" or jazz nights in New Bern, is something new for the downtown area.  We are passionate about promoting our evening jazz events.  We book only the best jazz musicians that perform in a casual environment, where individuals can sit back, relax, dance, and enjoy some really good music." States Joyce Price, partner and co-owner of Rivertowne Ballroom & Stanly Hall.
The performances will be held the 2nd Friday of each month from 7 – 10pm.  Tickets can be purchased in advance or at the door for $15 each or 2/$25.  Snacks and beverages will be available.  Individuals may pay a cork/bottle fee if they'd like to bring their own beer or wine.
Rivertowne Ballroom dance studio specializes in teaching all the most popular social and ballroom dances, as well as line dancing and Zumba fitness classes.  Our well-trained and experienced staff can instruct people at all levels, from the beginner who has never danced before to the advanced student who wants to perform or compete.  We offer three types of learning experiences, group lessons, private lessons, and dance parties in a warm and friendly environment.  All our classes and dance party events are open to the public.  We require no contracts and drop-ins are always welcome.
Rivertowne Ballroom is located at 305 Pollock Street in historic downtown New Bern.  To buy tickets, call 637-2003, 638-2577, or 637-2300.  For more information, go to our website at:  www.rivertowneballroom.com.
Submitted by: Millissa True, SBS Forward on behalf of the Rivertowne Ballroom