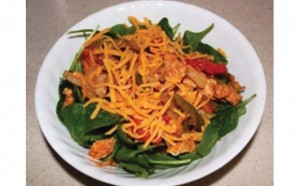 It's pretty easy to get into a 'meal rut' every now and then. I know it happens at my house more often than I would like to admit! Especially when you are eating healthy, it can feel like the options are limited. So to mix things up, I recently made these Chicken Fajitas and they really spiced things up (pun intended J).
You can make these the healthy way and have them on a bed of greens or try it on brown rice or a tortilla. You really can't go wrong!
Crock Pot Chicken Fajitas Ingredients:
– 4 large bell peppers cut into thin strips
– 2 medium onions cut into thin strips
– 1.5 pounds chicken breast cut into thin strips
– 1 teaspoon ground cumin
– 1.5 teaspoons chili powder
– 3/4 teaspoon garlic powder
– 1/2 teaspoon paprika
– 1/4 teaspoon pepper
– 1/8 teaspoon cayenne pepper
– 1/4 cup lime juice
Directions:
– spray inside of slow cooker with cooking spray
– put the peppers and onions in the bottom of the slow cooker
– combine chicken and remaining ingredients until mixed
– pour chicken mixture in the crock pot
– cover and cook on low for 2 hours
– stir and then cover and cook for another 2 hours
This makes 4 servings and as stated above, can be served alone, on a salad, on a tortilla, or over rice.
Written by Contributing Author: Kate Horney, Founder, Beyond Fitness Physiques