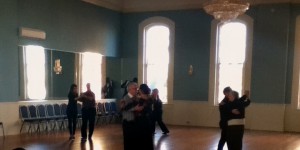 The Rivertowne Ballroom will hold a Ballroom Tea Dance, in the Historic Stanly Hall Ballroom on May 19th and June 6th from 4pm – 6pm.
Tea Dances were popular in the1800's and featured dances like the Waltz and Foxtrot.
Stanly Hall Ballroom built in1874 is a perfect place to enjoy this tradition from the past and spend some time dancing or just watching the dancers move around the floor.
Soft drinks coffee and water are available and snacks are always on hand. Its only $5 per person and no experience or partner is needed.
Rivertowne Ballroom is located at 305 Pollock Street in historic downtown New Bern. For more information, call 252-637-2300 or visit: www.rivertowneballroom.com.
Submitted by: Bernie Mallon on behalf of the Rivertowne Ballroom