Listen to Laura Johnson's interview with Bobbi Waters and Candy Foust of SweetWater aired on Radio Free ENC's WNOS 105.9FM and 1450AM:
It's time to relax in laughter and song under Spring's early evening at New Bern's premiere event venue, Isaac Taylor Garden on 228 Craven Street. Enjoy great music by Bobbi Waters and Candy Foust in a charming outdoor setting. The dynamic duo of SweetWater will perform in concert On Saturday, June 1, 2013. Gate opens at 6pm.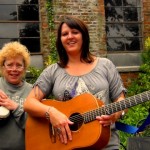 Hear some really funny stories and good life lessons! While living in Nashville, Tennessee, the SweetWater duo entertained with country sounds for fun-loving good folk. The dynamic duo of SweetWater reunited at Bear Towne Java a couple of years ago and continued sharing their energetic and playful tunes for a jam-packed performance at 247 Craven. SweetWater contributed their musical sounds with a Benefit Concert event for musician Pete Huttlinger.
As entertainers, both Foust and Waters help to build the success of New Bern Now. Candy Foust interviewed Grammy Award Winner, Kathy Mattea, for New Bern Now. See the exclusive video interview with Country Singer Legend's Kathy Mattea and Candy Foust on New Bern Now's youtube channel.  Bobbi Waters is the Sound Manager and Acoustic Performer for New Bern Now. Bobbi Waters of the SweetWater Band, was instrumental in creating the music for New Bern Now's community radio segments, hosted by Laura Johnson.
Tickets for the SweetWater Concert can be purchased online at http://www.itaylorgarden.com or call 252-649-1712 for more information. The premiere event venue built in 1792 for Isaac Taylor, a successful merchant and plantation owner and also related to Singer James Taylor! It's a beautiful outdoor garden with brick-encased patios and spring-time flowers. C'mon downtown to enjoy an evening of laughter, songs, and spirited stories!
Links: 
SweetWater concert tickets purchase online
Candy Foust interview with Kathy Mattea
Bobbi Waters at Bear Towne Java in New Bern
Submitted by: Lisa Bisbee, Isaac Taylor House and Garden