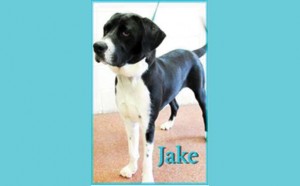 Jake is a neutered male Great Dane Mix about 14 months old.  He weighs 66 lbs and should be full grown.
He is not overly big for a Great Dane but he has the typical Dane jowls and floppy ears of the breed. His color pattern is known as "mantle" or classic Tuxedo markings.
He is just right for someone that enjoys a bigger dog. He is already housebroken and knows a little obedience. He gets along great with kids and loves other dogs and cats. He is a very happy boy and always has a smile on his face. Jake has a great personality and disposition and will make a fine addition to someone's home.
Currently, Jake is at the Craven Correctional Institution being trained by an inmate on basic obedience as well as crate trained, and walking on a leash without pulling.
He will be "move-in ready" for a lucky family at Graduation on July 10th.  Would you like to bring him home?  If so, it is necessary to complete the application found on www.palsforpaws.org or send an email it to bonnie@palsforpaws.org. Bonnie can be reached at 252-638-2358.
A home visit and veterinary reference is required to adopt this handsome dog. You must be an approved adopter to visit Jake at the prison.
Submitted by: Bonnie Compton, Pals for Paws