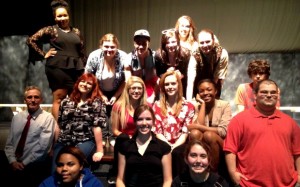 Craven County Partners In Education and New Bern High School Theatre Arts would like to thank Mr. John Griffin for his generous gift made through the New Bern Woman's Club's Public Issues Department in memory of his wife, Elizabeth Griffin.
Mrs. Griffin was a supporter of the arts and would be pleased for this opportunity to encourage young people in their acting endeavors. His generosity allowed the Theatre 3 and 4 classes to write and perform "It's not Chaplin, Charlie."
The play was a series of pantomime stories told without dialogue and allowed the effective teaching of the concepts and processes for directing a play: aesthetics, composition, rhythm, pantomimic dramatization, movement, etc.
If you would you like to learn how your organization can make a difference to a teacher in the classroom, please contact Darlene Brown, Partners In Education, at 514-6321.
It is the relationship that develops between our partners in the community that truly leads to the success of our students. An investment in Partners In Education is an investment in our workforce, our community, and our future.
Submitted by: Darlene J. Brown, Executive Director, Partners In Education, 3600 Trent Rd., New Bern, 252-514-6321