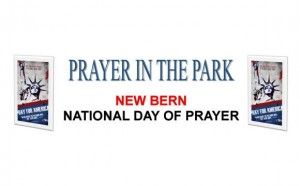 Thursday, May 2, 2013
11am – 2pm
Union Point Park in Downtown New Bern
Scripture read in different languages and prayer for Restoration of His Tabernacle.
Let us join together! Bring your lawn chair and lunch!
Sponsored by:  Refreshing Lives at Born Again Ministries, Tree of Life Ministries, Word in Truth Ministries, The Word of God Christian Center, New Bern Church of God Spanish Ministry, Riverbend Baptist Church, The Living Word Worship Center, eChurch, Romero Electric and The Little Bank.
For more information, contact Tharesa Lee at 252-349-6212 or Martha Romero at 252-675-2837 or visit: www.newbernprays.com.
Submitted by: Tharesa Lee