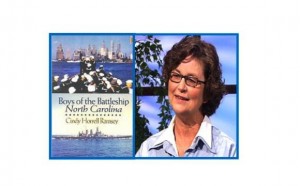 Tribute to a State treasure!  The last Lunch & Learn of the 2012-2013 season sponsored by the New Bern Historical Society and the North Carolina Humanities Council will take place on Thursday, May 9th, 2013 at 11:30 pm at the Chelsea Restaurant.  This month's topic is A North Carolina Icon Brought to Life:  Sea Stories of Sailors Aboard the World War II Battleship North Carolina presented by Cindy Ramsey.
The USS Battleship NORTH CAROLINA is a favorite tourist attraction in Wilmington, drawing a quarter million visitors every year. She was the most decorated American battleship of World War II, served in every major battle in the Pacific, and now stands as a memorial to all North Carolina veterans who lost their lives during that war. And though she was a technologically advanced fighting machine, she was nothing without the crew who served aboard her.
But what do you know about those boys who grew into men while manning America's floating fortress?  Author Cindy Horrell Ramsey will introduce you to some of them, including North Carolinian Chuck Paty, using her book Boys of the Battleship North Carolina, which tells the story of the ship through the eyes of her enlisted crew. For some, the ship was their home for the duration of the war. For others, she was the last home they knew. The poignant stories will make you laugh, make you cry, make you proud.
Ms. Ramsey is a noted publisher, author, editor and Lee County Director of Continuing Education at Central Carolina Community College in Sanford.  She holds a BA in English, and MFA in Creative Writing, both from UNC-Wilmington. She has been a Director of Continuing Education since 2007.  She is the author of Boys of the Battleship North Carolina, and co-editor of The Bottle Chapel at Airlie Gardens: A Tribute to Minnie Evans.
Prepaid reservations are required for this program. Members are $15; Non-members are $17. Please call the New Bern Historical Society at 638-8558 as seating is limited.  Meal choices are Baked Haddock with Champagne Dill Cream or Lemon Chicken.
Submitted by: June Dunleavy, New Bern Historical Society