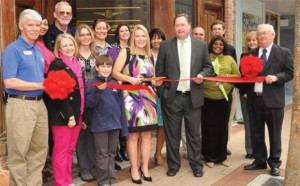 "What a Celebration!  March 20th, 2013 marked the first day of spring and a special ribbon cutting ceremony for SBS Forward, LLC.
SBS Forward, one of New Bern's newest consulting businesses, welcomed approximately thirty local community members and business owners to a ribbon cutting event held on March 20th at 242 Middle Street.
City Alderperson, Sabrina Bengel, and a host of chamber board position holders attended last week's event, among other local business owners.
"Simply stated, SBS Forward offers consulting services that help business owners better engage with their customers and employees.  It's my passion to inspire clients to create dynamically distinctive business environments so their journey towards success is nothing ordinary!" states Millissa True, Owner/Principal of SBS Forward.
For more information, visit www.SBSSimpleBusinessSolutions.com or call 252-288-4699.
Submitted by: Millissa True, Owner/Principal, SBS Forward, LLC