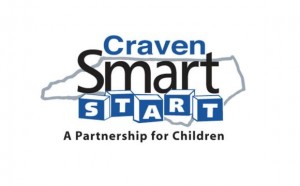 Craven Smart Start is launching a spring fundraising campaign to benefit their programs and services, while raising public awareness about the importance of the early years of life and their lasting impact on later learning, health and success.  The organization's fundraising efforts will focus on two initiatives, Coins for Kids and a Belk Charity Day ticket sale. Craven Smart Start Board members will be contacting local organizations and businesses, including child care providers, about placing jars or containers for "Coins for Kids" in their establishment for their customers to donate their loose change to the effort.  Belk Charity Day tickets will be on sale at Craven Smart Start's administrative office, located at 2111F Neuse Boulevard in New Bern. Tickets are $5.00 each and are good for the Belk Charity Day on April 27th between 6:00am – 10:00am.
The fundraising initiatives will be kicked off during the National Week of the Young Child, which is April 14 through April 20. Individuals or businesses that are interested in learning more about Craven Smart Start's fundraising efforts may contact Pinkie Moore, Community Outreach Coordinator, at 252-671-0689.
All of the donations received from these initiatives will help Craven Smart Start support children and families by enhancing their services. Craven Smart Start is a 501(c)3 and donations are tax-deductible. Its mission is to ensure that every Craven County child, from birth to five years of age, receives the education, health and family support necessary to arrive at school ready to succeed.
Craven Smart Start and their partnering agencies provide a variety of services to families of young children in Craven County. Information about their services is available at www.cravensmartstart.org.
Submitted by: Pinkie Moore, Community Outreach Coordinator, Craven Smart Start, Inc.