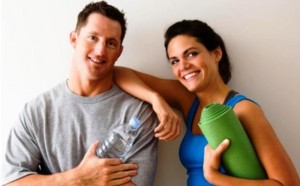 3 Ways You Can Improve Your Workout TODAY by Kate Horney
No matter where you're starting- from beginner to advanced, everyone is looking to improve their workout.
Here are 3 tips to improve your workouts & start getting the results you want:
1. Join a group:
Unless you're brand new to working out, the days of individual training are out.  Group training is much less expensive and allows you to have the accountability and support that you need to reach your goals.  Don't try to get results alone!  If you're local, we'd love to have you join our BeyondFit Boot Camp at the New Bern Country Club or Bikini Boot Camp at New Bern Gymnastics, but wherever you are, the key is to find a certified trainer who offers more than one-on-one training and join a group!  Group training is a much better value: it's less expensive and is the best thing you can do for your exercise adherence!  (Adherence is KEY to RESULTS)
2. Engage in short duration, high intensity workouts:
The best female fat loss results come from workouts that are 30 minutes or less. The old days of working out for an hour or longer are over. And let's be honest, who has that much time to spend on the elliptical anyway?  You simply don't need to take that much time any more… in fact, with short duration, high intensity workouts; you can get results after just 10 minutes!  Hour long sessions are frankly just a waste of time.  Shorten your workout- 30 minutes is all you need.  And as a bonus,  it will fit better in your schedule… which means you'll ACTUALLY be able to stick to your plan (adherence, anyone?)… Which means you'll ACTUALLY start getting results.
3. Find a workout you can do anywhere:
Many people don't know how to exercise without all that equipment at the gym.   But if you want to improve your workouts and start getting results, you have to find a workout you can do anywhere… because let's be honest, real life doesn't always allow you access to the gym.  Sick kids?  Vacation?  Out of town for a business trip?  Have I mentioned adherence yet?  Adherence is much better when you know how to workout anywhere- park, hotel, you name it… Learning how to get a good fat loss workout anywhere is an important tool to have as you work towards results.
What's the BEST workout for fat loss?  One you'll stick with!  Consistency with your workouts is key when it comes to getting the results you want.
For more resources to help you live a healthy, happy and balanced life, check out: http://www.beyondfitphysiques.com.
Written by Contributing Author: Kate Horney, Founder, Beyond Fitness Physiques