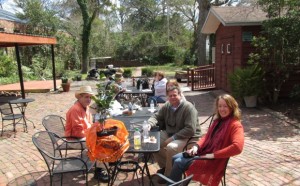 We started the Community BBQ Picnic last summer as a time for people to enjoy a free lunch, meet new people, and/or catch up with old friends…for free!
Previous events were held in the Croatan National Forest, at Union Point Park, and Glenburnie Park because we wanted to highlight area parks.
Today we met at the Isaac Taylor Garden at 228 Craven Street. Mike Lentz and Lisa Bisbee were gracious enough to let us use the beautiful garden! If you haven't already heard, The Isaac Taylor House is New Bern Now's new physical location that also accommodates the Greater Good Gallery, Community Artists Will non-profit on the first floor. The other floors are rented out as apartments.
Because this is a community event, we have a jar for people to donate a few dollars and write down their favorite charity to win the money during a drawing. The lucky non-profit was the Craven Arts Council and received $52 in donations. Special thanks to guests for their generosity, as we've raised over $200 for local non-profits.
The menu expanded from Buffalo wings, pulled pork, hot dogs, coleslaw, to special recipes and food that guests brought to compliment the main courses!
Special thanks to everyone who came out to enjoy the beautiful weather and mingle!
– Mike Afflerbach, Owner of Radio Free ENC
– Sara Afflerbach, Owner of Go Architectural Design
– Sonja Babic, Owner and Broker, Prime Realty
– Mayor Lee Bettis, Owner of the Bettis Law Firm
– Holly Blake, Owner of Awen Holistic Skin Care LLC
– Eileen Bress, Volunteer and Community Coordinator, Monarch
– Lisa Bisbee, Artist and Director of "The Hunt" Movie and Co-owner of Isaac Taylor  House and Gardens
– Beth Fairchild, Co-owner of Lucky Street Tattoo
– Betty and John Foy, Owners of the Meadows Inn
– Alex Frelier, Business Consultant
– John Griffin, Volunteer for the New Bern Historical Society
– Debbie Ham, Garris Evans Lumber and Volunteer for Great Dane Rescue Alliance
– Jennifer Johnson, Realtor for Team New Bern, Keller Williams Realty and Volunteer  for Great Dane Rescue Alliance
– Laura Johnson, New Bern Now's Radio personality and Co-star in "The Hunt" Movie
– Carol Jones, Artist and Volunteer for the Greater Good Gallery – Isaac Taylor House
– Thea Kincaid of Thea's Ideas and the Face of New Bern Now's video spotlights
– Mike Lentz, Co-owner of Isaac Taylor House and Gardens and Owner MJ's Raw Bar &  Grill
– Mike Neil, Garris Evans Lumber
– Christina Schneider, Mortgage Banker for First Citizens Bank
– Richard Sheridan, Owner of Crystal Coast Discovery Maps and NBN's Map Man
– Carol Stewart, Owner of the Healthy IQ and Miche Bag Representative
– Tom Stewart, Online Marketing Strategist and Website Developer
– Mary Tuitt, Owner of Mary Tuitt RD
– Lisa Wimpfheimer, Gigi Hil Bags Representative
*** My apologies if I missed anyone as it was a little hectic tending to the grill and talking with friends!
It was really good to see friends and others who I've corresponded with via email and/or Facebook and finally meeting them in person! We had a great time and can't wait until the next one!
So far, we've been inviting Facebook friends. If you don't receive an invitation on Facebook, please send me an email or comment below if you'd like to be added to the list for future community picnics!
The next BBQ hasn't been scheduled yet, but will probably happen at the end of April or the beginning of May. Please let me know if you will be attending so we will have enough food.
Special thanks to Mike Lentz and Lisa Bisbee for opening up the Isaac Taylor Garden for today's event. I would also like to thank Laura Johnson for cooking the pulled pork and helping me prepare everything. Thanks goes out to those who brought special dishes! I couldn't have done it without your help!
Tell us what you think by commenting below or sending an email. "Like" New Bern Now's Facebook page to follow the latest happenings!
Wendy Card