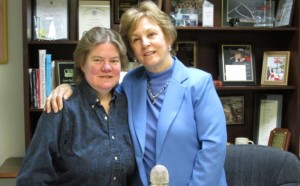 Listen to New Bern Now's Laura Johnson's interview with Susan Moffat-Thomas about the upcoming Sunrise Business Update aired on Radio Free ENC's WNOS 105.9FM and 1450AM:
Swiss Bear Downtown Development Corporation and the New Bern Area Chamber of Commerce are happy to announce the second Sunrise Business Update will be held March 28th with featured speaker Taylor Downey, NC Operations Manager for Weyerhaeuser Real Estate Development Company.
Downey oversees the Craven Thirty project located at the Highway 43 Connector and Highway 70. This mixed–use development will provide entertainment, lodging, shopping, dining, residential and recreation to this area. The May 2012 ground breaking ceremony kicked off the project and development of the infrastructure is underway.
The meeting will be held 8 – 9 a.m. at Baker's Kitchen, 227 Middle Street in the second floor meeting room with a full buffet breakfast. The cost is $10 per person, will be collected at the beginning of the meeting.
Due to limited seating, reservations are required by contacting the Chamber. You can reply by emailing Susan Milliron at the New Bern Chamber or by calling 252-637-3111. Reservations for the March 28 meeting are required by the end of the Tuesday, March 26 work day.
The dates for the bi-monthly programs for the 2013 are: March 28, May 30, July 25 September 26 and December 5. A listing of speakers will be published as they are confirmed.
Swiss Bear and the Chamber of Commerce are providing this opportunity for the business community to meet and hear presentations from business professionals on topics that are important and timely to New Bern, Craven County and Eastern North Carolina.
For information visit Swiss Bear Downtown Development Corporation's website or the New Bern Area Chamber of Commerce's website.
Submitted by: Susan Moffat-Thomas, Executive Director, Swiss Bear Downtown Development Corporation