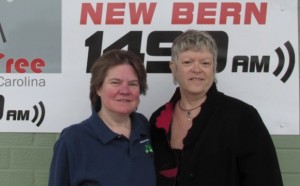 Listen to New Bern Now's Laura Johnson's interview with Janet Francoeur, owner of Carolina Creations Fine Art and Contemporary Craft Gallery about their upcoming exhibit: Intuition – Twins aired on Radio Free ENC's WNOS 105.9FM and 1450AM:
Carolina Creations launches a new show every other month. The opening is during ArtWalk which is the second Friday of every other month from 5 – 8 pm.
March and Aprils featured artists are Jane and Nancy Horner their show is called Intuition – Twins.
They are identical twins but work in totally different mediums.
Jane is a multimedia artist and in this show she has water color collages. She has done a painting then added pieces she has cut out from other paintings Creating a textured interesting surface.
Nancy works mostly in fibers doing wall hangings and spirit dolls. I am especially enamored with the spirit dolls which are inspired by her time spent in Alaska among the Yupik Eskimos.
The show runs through the end of April and is open to the public every day at Carolina Creations in Downtown New Bern, 317 Pollock St.
Information provided by: Janet Francoeur, Carolina Creations Fine Art and Contemporary Craft Gallery, 317 A Pollock St., New Bern, 252-633-4369
Tell us what you think by commenting below or sending us an email. Visit New Bern Now's Facebook page or sign up for the latest updates by submitting your email address in the right margin on New Bern Now's website.
Wendy Card