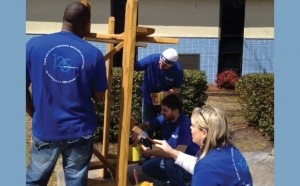 Store volunteers to give makeovers to local schools
As part of its 125th anniversary celebration this year, Belk is showing its continued gratitude and commitment to the Southern communities it serves by enlisting store volunteers to do makeovers in local schools over a 125 day period from March 10 – July 12. Belk is working in partnership with Points of Light, the world's largest organization devoted to volunteer service, which will help mobilize and coordinate Belk's efforts (Learn more: www.pointsoflight.org). Makeovers will vary based on school needs, but may include painting classrooms, landscaping and other improvements.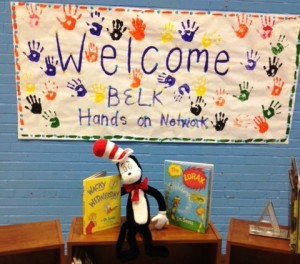 Where: 
Belk of New Bern Mall in New Bern, N.C. will be conducting its service project at
Trent Park Elementary, 2500 Educational Drive, New Bern
What:  
Associates will be working on the following projects:
– Constructing picnic tables to encourage reading and playing together
– Assembling and painting bookshelves to hold books collected in local Belk store
– Creating educational wall paintings
– 10 Belk associates will be participating in the school makeover
When: March 28, 2013 10 a.m.- noon
– Media availability between 10:30-11:30 a.m.
– Eleanor Patrick, Trent Park Elementary principal
– Wanda Setliff, Belk store manager
– Gary Renville, Hands on Network, vice president
"We're thrilled to have volunteer activities scheduled in every Belk market so that all of our associates will have the opportunity to participate," said Jessica Graham, Belk vice president of communications and community relations. "Our associates are so passionate about the communities they live and work in, so we knew that a key component of our anniversary celebration must include giving back."
Belk Community Giving
Belk has a strong tradition of community involvement and philanthropy dating back to our founders nearly 125 years ago. Our company, along with our associates, customers and vendors, contributed more than $18 million to local communities during the past fiscal year. Of the total amount, Belk corporate dollars funded $6.2 million to more than 250 nonprofit organizations, with a focus on education, breast cancer research and awareness, and community strengthening. The remainder of the funding includes associate, vendor and customer dollars raised in Belk-led charitable initiatives, including Belk Charity Sale.
Belk commits to give 2.5 percent of its pretax income each year back to the communities it serves.  Last year, Belk Charity Sales (one in spring, one in fall) together raised a total of more than $10 million that benefited thousands of local charities throughout Belk markets. We raised $1.6 million for the Susan G. Komen for the Cure Foundation through our 2012 campaign, far surpassing our goal of $1 million and completing a three-year, $3 million commitment to Komen. In January, the company launched a new BelkGives "On the Go" mobile mammography screening center that will travel to 116 Belk markets in the Carolinas and Tennessee throughout 2013. The program represents Belk's largest investment to date in the fight against breast cancer.
About Belk, Inc.
Charlotte, N.C.-based Belk, Inc. (www.belk.com) is the nation's largest family owned and operated department store company with 301 Belk stores located in 16 Southern states. Founded in 1888 by William Henry Belk in Monroe, N.C., the company is in the third generation of Belk family leadership and has been committed to community involvement since its inception. Each year, Belk gives a portion of its pretax income back to the communities it serves. In fiscal year ending Jan. 31, 2013, the company and its associates, customers and vendors, donated more than $18 million to those communities. Belk.com offers a wide assortment of national brands and private label fashion apparel, shoes and accessories for the entire family along with top name cosmetics, a wedding registry and a large selection of quality merchandise for the home. To connect with Belk go to: Belk Get Connected.
Submitted by: Michelle Reino, Public Relations, Luquire George Andrews