Garden Lover's Weekend Spans April 12-14 with Music, Lecture and Discounts
Above photo: Hundreds of tulips lie ready to blanket Latham Memorial Garden with a bright patchwork of red, white and yellow brilliance. Among numerous species of flowers pictured here, the discerning eye can already see the warm contrast offered by the single red bloom of a King's Blood tulip.
Tryon Palace brings spring into full bloom with Garden Lover's Weekend, held April 12-14. Offering free admission to the gardens, a heritage plant sale, live music and a lecture about edible landscaping, Garden Lover's Weekend will be held from 9 a.m. to 6 p.m. on Friday and Saturday, and from noon to 6 p.m. on Sunday.
Tryon Palace is also a featured stop on the New Bern Historical Society's 2013 Spring Historic Homes and Gardens Tour, held on Friday and Saturday of that same weekend. In addition to having the Palace's gardens open all weekend for free, those presenting a ticket from the Homes and Gardens Tour will receive discounts on tours of the Governor's Palace and the North Carolina History Center.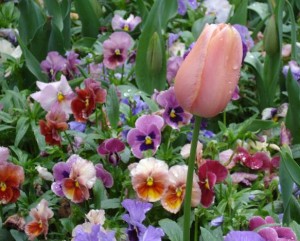 The Heritage Plant Sale is always a popular event for lovers of history and gardening alike. Held from 9 a.m. to 5 p.m. on Friday and Saturday, April 12-13, the Heritage Plant sale gives visitors a rare opportunity to buy plants that are both unique and historic. All the perennials, herbs, annuals, trees and shrubs sold at the Heritage Plant Sale will be from Eastern North Carolina nurseries or from Tryon Palace's very own greenhouse.
The lecture "Eat Your Own Yard!" by author Nan K. Chase will begin at 10 a.m. on Saturday. Explaining how you can have a beautifully landscaped property and eat it to, Chase will primarily focus on edible trees, shrubs, vines, herbs and flowers. After the lecture, audience members will be able to enjoy a small sampling of a dish prepared from Nan's book, which will also be available for sale and autographs. This lecture will be held at Cullman Hall, located inside the North Carolina History Center and is provided at no cost with help of a generous grant from the Harold H. Bate Foundation.
Mermaid Morgan will provide live music on the hammered dulcimer during the Heritage Plant Sale on both Friday and Saturday. Performances by the Fife and Drum Corps will only be on Saturday, April 14, and take place on the Palace Grounds at 1:15 and 2:15 p.m.
The Tryon Palace garden shop will also be open on Friday and Saturday from 10 a.m. to 5 p.m.
Visitors that present their Spring Historic Homes and Gardens Tour ticket will be given discounted admission to the Palace and North Carolina History Center. This rate is only available Friday, Saturday and Sunday, April 12-14. For more information about the Spring Historic Homes and Gardens Tour contact 252-638-8558.
For more information about Garden Lover's Weekend at Tryon Palace call 252-639-3500 or visit www.tryonpalace.org.
Submitted by: Craig Ramey, Marketing and Communications Manager, Tryon Palace and the North Carolina History Center