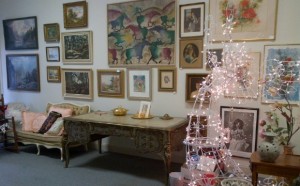 On Sunday February 17th Martina and Robert Muir are hosting a Wine & Cheese Reception with the Barbershop Quartet at the Antiquery Boutiquery Place between 1:00 – 2:30pm in New Bern.
The Shoppe is developing more into an art gallery as that is what both the tourists and natives seem to be looking for – art at affordable prices.  Martina buys the art from an auction house in Dover NJ and sells it without gouging the prospective buyers.  Many of the buyers are repeat customers.  When someone says he/she will be back, that often is what happens.
Visit the Antiquery Boutiquery Place, 243 Craven Street or call 252-514-0487 for more information.
Submitted by: Robert Muir