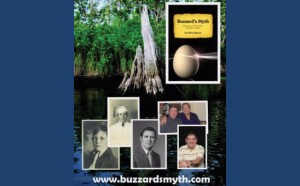 Diary Includes Introspective Insights of His Life Journey
By Janet Green, thewordverve inc. 
Once a teacher, always a teacher.
At age 84 and wrestling the final stages of Parkinson's disease, North Carolina banks native Alva Harris now shares his current state of affairs via a blog diary, detailing his last days on earth.  Not intended to be morbid or morose, he hopes the diary will open eyes and connect hearts.
He writes, "I am eternally grateful to have existed in an age of enlightenment where free thought is a right and privilege. Today I am diagnosed to be in the last stage of PD. I have many like companions. This is for you and others who might care."
Alva is the author of Buzzard's Myth, a book that chronicles a lifetime of cross-country adventures that always returned him to the coast of his birth.  Now a resident of New Bern, NC, where he undergoes at-home hospice care with the support of his family and friends, there is excitement in his voice and a fresh energy in his words as he embraces this new writing adventure. Like his longtime inspiration Michael J. Fox, Alva is determined to control his destiny as he faces the nearing reality of death.  This is why he feels drawn to continue writing, teaching, and sharing through this blog diary.
"I have no fear of death but question the need, however morality views it, to exist beyond my definition of life. I claim the right to choose when and how I die.  My viewpoint is far from universal, and also far from unique."
The diary URL specifically is http://buzzardsmyth.com/blog-diary.  You can also keep up with blog posts very easily by clicking the FOLLOW button at the bottom of the website page and adding your email address.  New posts will be delivered electronically to your inbox.  Or of course you can just visit the site for updates.
The website www.buzzardsmyth.com also includes information about the book Buzzard's Myth and about Alva Harris, PhD—author, adventurer, scientist, teacher, and perhaps most significantly, a man who is "ready to be recycled" on his own terms.
Submitted by: Janet Green, Editor/Owner, thewordverve inc.
On a personal note, I had the honor of meeting Alva during the Craven Arts Festival  1 1/2 years ago. Here's the video and article about my experience meeting this wonderful man.
Wendy Card