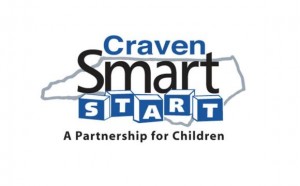 Parents who are looking for a kid-friendly place that offers a variety of fun learning opportunities for their children are encouraged to visit the Resource Lending Library, located in Magnolia Plaza at 2111F Neuse Boulevard in New Bern.  This facility which is operated by Craven Smart Start's Child Care Resource and Referral Program (CCR&R),  been renovated  and expanded during the last few months to include new areas for children's play including a housekeeping area with a child's stove, sink, etc and block area with a variety of children's blocks.
The lending library continues to be well-stocked with children's books, games, and age-appropriate toys for parents and children to use while they visit or to check out and use at home with their children through their annual membership fee of $10.  According to Jennifer Bolz, who oversees the library in her position as Educational Resource Specialist, "we are in the process of ordering new toys for play and check out on a frequent basis.  Items for check out are on the shelves and they are typically checked out for two weeks and can be renewed over the phone.  The annual library membership of $10 goes back into the library to purchase new items."  Membership benefits also include reduced rates for laminating and most training fees and small fees to use the die cut machine (does not include paper) and book binding machine.  The Lending Library is open Monday through Friday from 8am to 5pm.
Monthly Play and Learn sessions for children and parents are also a regular feature of the Lending Library.  Each session includes an activity, such as art, reading, finger plays, etc. and a snack.  They are provided at no charge. The sessions in January will be held Wednesday, January 23rd and Thursday, January 24th from 10am to 11am and will focus on "Winter Fun".  Space is limited and parents are asked to call Jennifer Bolz at 252-672-5921 Ext. 21 to sign up for the session.
Submitted by: Pinkie Moore, Community Outreach Coordinator, 2111 Neuse Blvd., New Bern, Craven Smart Start, Inc.